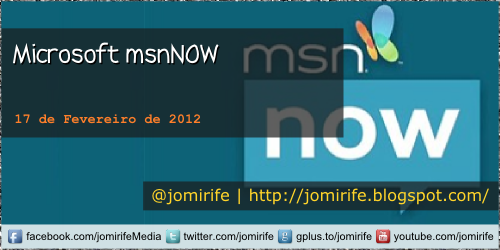 What is msnNOW
msnNOW is not a social network, is not a news site, is a mixture of both. This new service from Microsoft allows the user to know the new and interesting stories are trending in the social networks. The source of information are the social networks and news sites: Twitter, Facebook, Bing, YouTube and BreakingNews.com. Creating highlights that show what trends and the stories of the moment on the Web.
The information on msnNOW
Sums up each story in 100 words or less, you'll see a small block of information of the story, illustrating with an image and the source where it was known. If you are interested in story you can click to learn more and read the whole story, from there you can also share in your favorite social networks.
Basically it's a site where you can learn about the important things that people are talking about in the social networks, who decides what it's news are the users on the social networks by talking about it. You can visit the website at
http://now.msn.com/