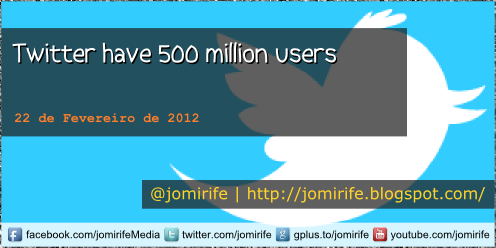 500 million
Twitter has finally reached this great mark, the 500 million users. While other social networks have already passed (Facebook) and others that have the highest growth ever (Google Plus), 500 million is still a great mark on the Internet today. But it's the platform with more daily posts.
Micro blogging
Twitter was created in 2007, but its major growth began in 2009, although in 2007 at SXSW had some significant attention. Since there has become one of the most popular a social networks on the Internet. Its benchmark, 140 characters per post is something that still causes many to not understand the success, but for who understands, knows the importance of the micro blogging platform of the 140 characters.
Funds raised
During five years, since the is birth, has attracted very kind of investments and funds raised has been estimated more than 1300 million dollars. The most significant investments was by the «Digital Sky Technology» in August 2010, and the Saudi Arabian prince «Alwaleed bin Talal» in December 2011, with hundreds of millions of dollars. Currently it is estimated that Twitter worths 8500 million dollars.
Accounts/Users
One year ago, Twitter announced that had reached 200 million registered accounts, with 155 million accounts publishing tweets daily. With an exponential growth because whaen more users register, his friends do the same. Since the launch of Apple iOS5, it has created so much talk about it on Twitter, that the growth of registered accounts increased to 300% daily. Per day are created over a million Twitter accounts, it is estimated about 1120 million. If this growth continues, in the end of the year it could be around 1000 million accounts!
At the end of the Super Bowl
During some sporting events, Twitter is increasingly used worldwide with friends commenting and discussing. In the "Super Bowl" was used again this year, with an average of 4,000 tweets per second, but was even better in the last minutes of the game, in the last three minutes of the "Super Bowl" were written about 10,000 tweets per secondo. These numbers make Twitter a social network/blogging platform one of the most powerful on the Internet.